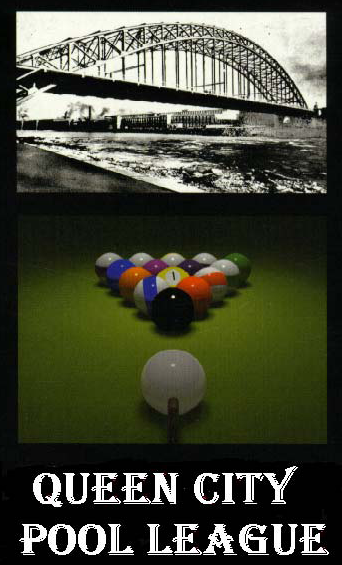 Featuring the very unique game of pocket billiards called: "Around The World" or "Roundy"





The Queen City Pool League was formed by social clubs in the Manchester, New Hampshire area to promote associations and friendships among their members through competitive participation in, and enjoyment of, the pocket billiards game of Around-the-World.





Dating back to 1947, the Franco-American League officially changed it's name to The Queen City Pool League on August 25, 1971 and on it's 50th anniversary in 1997, boasted an active membership of 375. In the early days through the mid-1960s, Straight Pool was the popular game of choice throughout the Manchester area. 1965 represented the turning point when Straight Pool was replaced by Around The World as the game of choice.



Currently running in Manchester NH at the following clubs: British American, Cercle, Davignon, Deerhead, Eastside, My Friends , Rimmon, Workmens.

Follow us on Facebook AroundTheWorldPoolLeague




Next meeting will be Tuesday December 20, 2016 at 7PM at the Davignon.

Singles Tournament at Eastside - January 7, 8, 14, 15, 21, 22, 28, 29, 2017
Doubles Tournament at Cercle National - Feb 18, 19, 25, 26, Mar 4, 5, 11, 12, 2017


The Davignon Club will be hosting a Singles Warm-up tournament on December 10th (& possibly 11th).
$10 per person. Deadline for entry Noon on 12/10/16. Sign up at Davignon club.
Single elimination in first round - double elimination through rest of play.